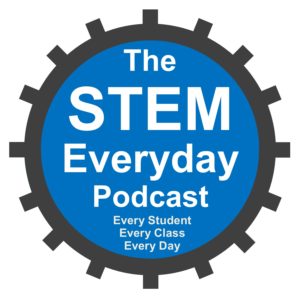 The STEM Everyday podcast (started 5 years & 150+ episodes ago) focuses on how teachers can infuse STEM (science, technology, engineering, and mathematics) into their everyday lessons. We explore and share great ideas that inspire students to take ownership in their learning. Each week I interview educators who are using innovative ways to add STEM to their everyday classrooms, schools, and communities.
Subscribe to the STEM Everyday Podcast on iTunes or on your favorite podcast app!
Check out the links to every episode below ⤵️
If you're interested in being a guest on the STEM Everyday Podcast, send me an email at dailystem@gmail.com (also, for quick STEM & education ideas, subscribe to my YouTube Channel)
Episodes:
It doesn't matter what subject or grade level is being taught, STEM can be incorporated into all classrooms and every home. This podcast aims to help educators give their students opportunities to learn and take charge of their learning.